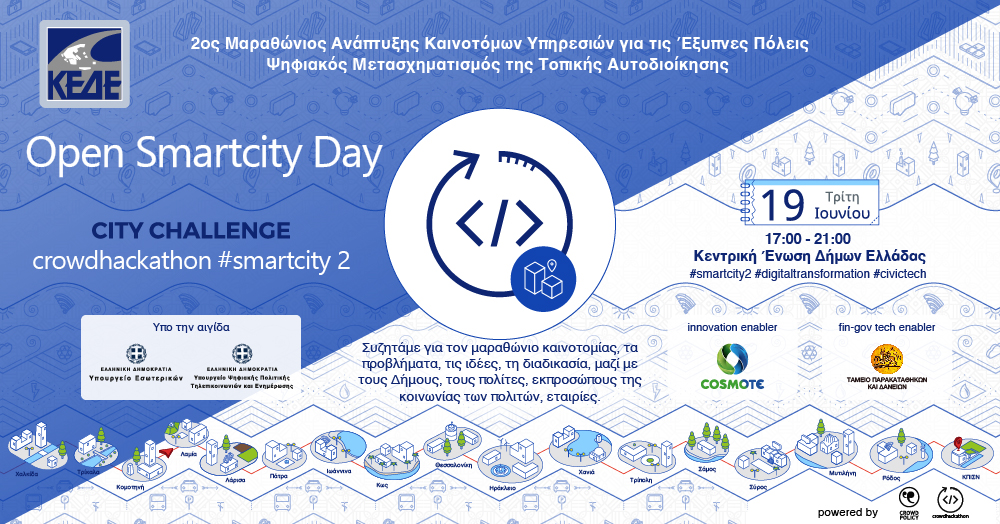 Open Smartcity day will be held within the context of City Challenge Crowdhackathon # smartcity2 (June 28th to July 1st in Athens).
It will take place on Tuesday, June 19th, 2018, from 17:00 to 21:00 at the Central Union of Municipalities of Greece.
We invite representatives of Municipalities, companies and organizations who want to actively participate as sponsors, supporters, mentors or visitors in City Challenge Crowdhackathon #smartcity2 to attend Smartcity Open Day and the discussion on smart cities.
For those who will not be able to attend Open Smartcity day, there will be a live broadcast available through http://crowdhackathon.com/smartcity2/thelo-na-parakoloythiso-2/ and the facebook event (https://www.facebook.com/events/235901960325299/). The contents of the presentations and the conclusions of the discussion will be posted as well.
Open Smartcity Day Program
17.00 – 17.30

– Arrival –  Check in

17:30 – 18:00

– Welcome speech by the President of the Central Union of Municipalities of Greece (KEDE), Mr. George Patoulis

18:00 – 18:30

Presentation of the 2

nd

Marathon of KEDE, the side events and the KEDE Innovation Lab by the Chairman of the Organizing and e-government Committee of KEDE, Mr. Ioannis Tsiamis

18:30 – 19:30

Presentation of the process, specifications, requirements and evaluation criteria of the 2

nd

Innovation Marathon of KEDE by Mr. George Karamanolis, discussion on the specifications and process, finalization

(The same presentation will take place at the kick off meeting of the marathon on Thursday 28/06/2018)
19:30 – 20:30

Networking – Discussion
Related links: