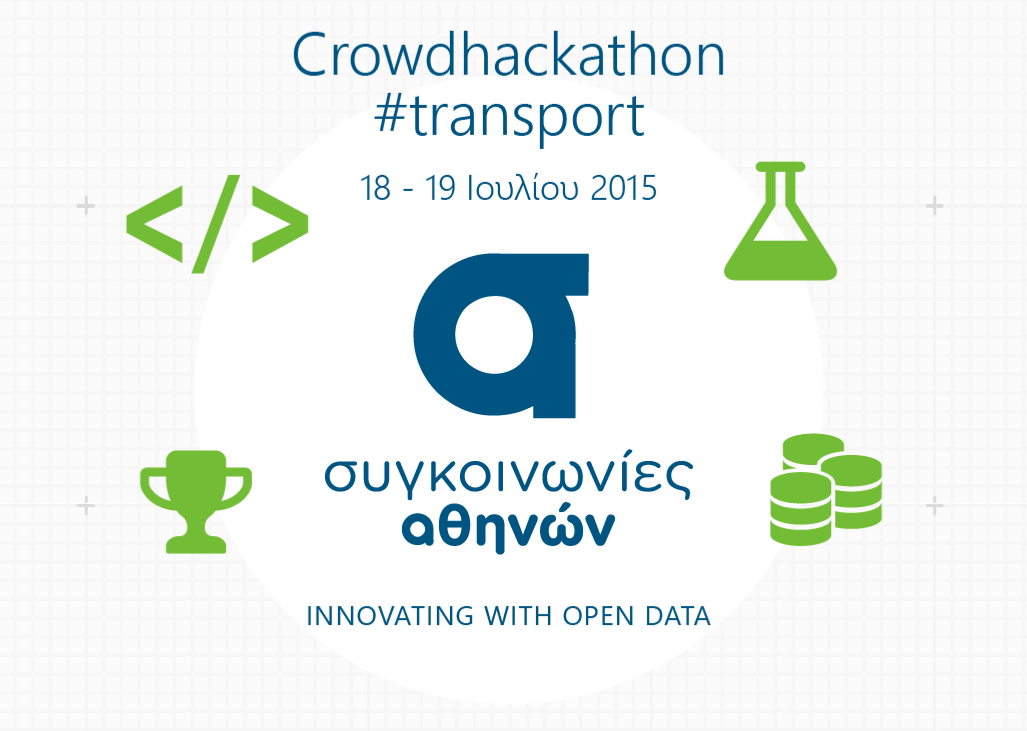 Athens Urban Transport Organisation (OASA S.A.), Crowdpolicy Innovative Company and InnovAthens, the Athens' Municipality Innovation and Entrepreneurship Hub (located at Technopolis S.A.) organise a two-day Hackathon Festival focused on the design and implementation of applications leveraging open data. The event is part of the "CROWDHACKATHON I  INNOVATING WITH OPENDATA" Initiative that aims to promote the culture of open data and the associated opportunities for Greece.
Target audience: New entrepreneurs, programmers, business analysts, designers, transportation engineers, architects, communication experts, business consultants, professionals, students and other interested parties are all invited to participate in the Hackathon Festival and take an active part in the development of applications that will promote entrepreneurship and improve urban quality of life. Public and Private Bodies in the domains of culture, tourism, environment and public administration are also invited to actively participate in the Hackathon by providing widely open their data.
Hackathon's Main Aims:
The whole organisation aims to:
promote the culture of open data and the opportunities arizing for the Greek economy and for creating high value jobs by innovating with open data
inspire developers, entrepreneurs, communication experts, either students or professionals to develop products or services
mobilize Ministries and other public institutions to make their "open data" available for use and innovation, following the example of OASA who has been a pioneer in that field
You can participate in the Hackathon by:
Developing applications that will leverage data provided by Ministries, public and private institutions, including OASA, combining the provided data with other data and references from the fields of Economy or Public Administration and finally aiming to strengthen digital economy and entrepreneurship (e.g. presentation and combination of data, related to the public transportation routes, for citizens' direct information / smart applications for tourism or retailing /  smart tools for small and medium-sized enterprises / smart services for digital payments, customer information and promotion of services). All applications that will focus on their entrepreneurial adaptation will be strongly encouraged.
Providing useful tools and practices aiming to improve the already existing OASA services , e.g. tools that will collect and/or combine data, targeting to effectively monitor the Athens transportation system, to improve decision-making, decision management, incident management and finally the interoperability between Transportation Organizations and Public Bodies.
Creatively working and co-working on Open Data, for example in the direction of strengthening information mechanisms for citizens and public transportation users through visualizations, infographics and geographical depictions of the data provided during the Hackathon#transport.
The exact technical specifications and the prizes will be announced during the following days.
Location & Dates
Supporters
Google (sponsor)
Visa (sponsor)
Goody's Burger House (sponsor)
Hellas Smart Ticket (HST , sponsor)
Here (sponsor)
INRAKAT (sponsor)