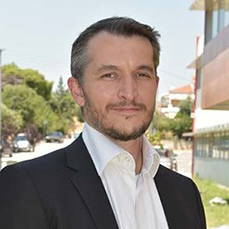 Αcquired an MBA from Greenwich University and devoted completely to decentralized digital currencies since 2013, having been involved in Bitcoin since the summer of 2011.
Since then I've developed a payment processor for Bitcoin, and solutions for providing digital financial inclusion to the unbanked, including cheaper remittances and mobile money infrastructure.
Since 2014, I administrate the MOOC and co-lecture in two of the MSc courses on Financial Systems and the Developing World, as well as provide Digital Currency expertise throughout the MSc program in Digital Currency at the University of Nicosia. I've presented Bitcoin in conferences and forums in the US, Greece, Cyprus and appeared in Cyprus and Greece media as a commenter on Bitcoin technology.
I am passionate about decentralization, disintermediation and transparency.